My first block lotto blocks…. :)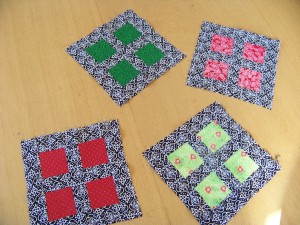 G'day! I'm Glenys. I live in Tasmania.
I've been quilting about 4-5 months and have made 2 quilts, several mug rugs, bags and a ton of microwaveable bowl potholders (all quilted!)
Here are my 4 blocks to go into the draw. This is my first block lotto as I'm a complete newbie on this site….. Hope you like them!
I also have a quilt blog: whirlywhimsies.com if anyone is interested. I'm new to blogging as well….