December – Scrappy Stars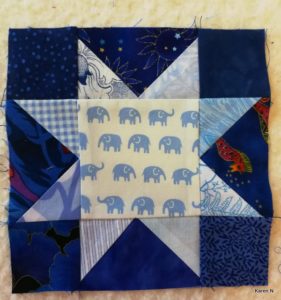 Welcome to December!    I am Karen N and I live in the suburbs of Cape Town in South Africa.  This month we are making a fairly simple star block.   I am very glad that I had the last month of the year, although Nann's block is a hard act to follow!    The block finishes at 6-inches square, in either scrappy blues or scrappy purples.  You may make up to 9 blocks for the drawing.
You will find the pdf pattern this link:  Dec2018 Block Lotto   Please use Scrappy Dec Stars as the tag for this month.
Come back later in the month to see the list of participants and the number of blocks we've made.
UPDATE:  This is the link to the list of blocks made: Dec Block List
I made a number of these blocks some years ago, and now ca
n't quite find where the idea originated.  I used some in a school fundraising raffle quilt – the centres of the bigger blocks all have the handprints of preschoolers, and the 6-inch blocks were used as fillers.
These are my 15 blocks for donation: