February 2014 Recap
February 2014 – Bead on a String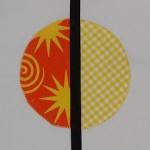 In February 36 quilters made 224 Bead on a Strip blocks, made from black, white and your choice of two: yellow, orange and maroon–a color-way suggested by Debbie.
These blocks were won by Marie, Debbie, Ginny, Tracy and Debra.
Here are the details for the month.
Guidelines for February are here:
Bead on a String is the February Block
Tips for making this block are here:
More Tips for Making the Bead on a String Block.
Tag
Tag for ALL blog posts about the February blocks: bead

Monthly Topic for Block Lotto Linky Party
Giveaway
Caroline won the blocks provided by Kristin in the Tic-Tac-Toe Blocks Giveaway.
Quilt-Along Info
February update – Mod-Mod Quilt-Along
Introduction and January update: It's a Mod-Mod Quilt-Along
Total Bead Blocks made in February: 224
Blocks entered into Drawing:
Andi – 3
Andrew – 3
Angie – 1
Caroline – 9
Cathy L – 6
Charlene – 6
Christa – 1
Dagmar – 9 ***NEW***
Debbie – 9  *** Winner #2 ***
Debra – 9  *** Winner #5 ***
Dena – 8
Ginny – 8  *** Winner #3 ***
Helen – 1
Jo S. – 5
Jude – 9
July P – 3
Karen H – 7
Karen N   – 6
Kathie – 3
Kathleen – 6
Kathy – 9
Laura – 9
Laurina – 3
Madison – 9
Maree – 3
Margaret – 6
Marie – 9 *** Winner #1 ***
Nann – 8
Peggy – 9
Rachel – 9
Shelley – 9
Tracy – 9 ***NEW *** *** Winner #4 ***
Blocks donated (no chances in Drawing):
Ellen – 4
Elizabeth – 5
Sophie – 6
Sandy – 3
Tracy – 2 ***NEW***